When I meet a new website project client, I can sense the weight of the project bearing down on her.
I understand.
Leading your organization into a website project is as exciting as it is stressful. So much can go wrong… but so much can go right!
I've seen all kinds of nonprofit leaders succeed at launching their new website.
It doesn't matter how small (or big) your team is, how small (or big) your budget is, what your timeline is, or whether you've ever launched a website before!
As the website project leader, your role is to provide insight, make decisions and serve as a leader for your team and your vendor.
So, what can you do to get ready for the redesign?
In today's resource, I'm sharing four important errors you can avoid as you lead your organization through your website redesign project.
1. No one knows who the site is really for.
You've seen these sites. The menu is confusing. The homepage is overwhelming. There are features that never get used. (Hello, lonely discussion board!)
These are the symptoms of a site that missed several crucial steps during the Discovery phase.
ACTION ITEM: Start by choosing just a few, specific target audiences for your new website.
2. The RFP is missing the information that attracts the right vendor.
I've seen hundreds of RFPs for nonprofit website projects and far too many of them are missing the mark.
The RFPs that need the most improvement are the ones that started with a template – and ended with a template.
ACTION ITEM: Customize the RFP to focus on your organization's community and decision-making culture.
3. The team leaves content creation until the last minute.
When a website doesn't launch on time, it's because the content wasn't ready.
It makes sense. Creating original content requires a lot of your time.
ACTION ITEM: Start creating the content as early as possible, and check in on it often!
4. There's no plan to incorporate the demands of a website project into everyday work.
As the website project leader, your biggest job is managing three resources: people, time, and money.
It's no surprise which resource is the trickiest to manage: people!
ACTION ITEM: Choose specific, actionable ways that stakeholders can provide feedback to the website project.
Are you leading your nonprofit through a redesign project in 2019? Remove the stress and uncertainty, and replace it with a process that is especially designed for the way nonprofits collaborate, make decisions and grow.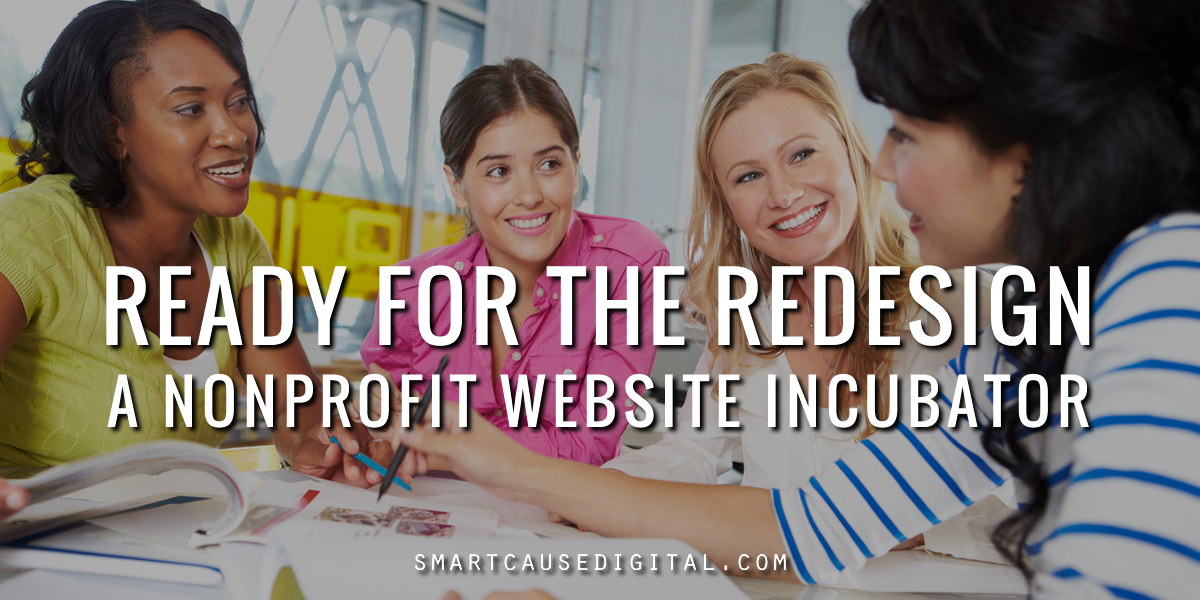 What is Ready for the Redesign: A Nonprofit Website Incubator?
This is a 4 week training program designed to give you the guidance, ideas and community that you need to lead your organization through a successful website redesign project.
Your trainings and resources will focus on topics such as: Goals, RFP, Content, Team & Timeline.
Who is the Incubator for?
This training is especially created for nonprofit communications, fundraising and executive professionals who are planning a website redesign project within the next 12 months.
The materials are appropriate for organizations of any size, focus area, website budget and technology capacity.
How will the Incubator help your specific organization?
This is probably the first time you've led your organization through a website project. (Or it's been several years since the last time your organization overhauled the website.)
You could stumble and guess your way through this crucial project. You could risk confusing your visitors, offending your board members, launching late or choosing the wrong vendor.
Or you can follow a proven system, specifically tailored for the way nonprofit teams make decisions and collaborate!
Learn more about Ready for the Redesign: A Nonprofit Website Incubator →
(And hurry, doors close on Friday, January 4th!)