At the end of 2017, two interesting data trends crossed my desk at the same time.
I asked my email subscribers to tell me about the topics they were interested in learning more about in the coming year. A significant portion of the responses mentioned a desire to "keep up" with social media.
At the same time, I was meeting with my Quarterly Website Strategy Session clients to review their customized Google Analytics reports. Their website conversion rates for online actions, even those as introductory as as email signup, were trending lowest for visitors coming from social media sites.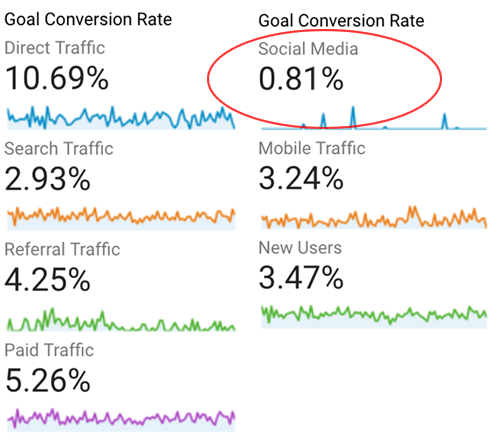 (Read more about these low conversion rates for social media visitors, along with the rest of the "10 Stats You Should Know About Nonprofit Websites in 2018")
This led me to ask the question (and put this article in the queue for SmartCause Digital email subscribers):
Is it worth your time to "keep up" with social media?
My answer is: yes, but only if you have a specific action in mind for your social media audience.
For example, several of my clients have had success using social media to promote and sell tickets to in-person fundraiser concerts and festivals.
Or, you can always focus your effort on converting social media followers to become email subscribers.
Social media user have the potential to be engaged, but your organization will need to make the right ask at the right time.
Social media users tend to spend far less time on nonprofit websites and bounce at far higher rates, which means your request needs to be clear, compelling and easy to complete.
Remember, when the moment is right, social media visitors can offer your organization a wave of support.
This screenshot is from a nonprofit website during a catastrophic emergency. Both the organization and its supporters used social media to share updates about the emergency and drive traffic back to the donate page.
It's always worth your time to "keep up" with email marketing.
If I were a nonprofit communications professional and didn't have a clear action in mind for my social media audience, I would spend my limited time optimizing my email marketing.
There's no doubt that email is a key outreach channel for your organization. Among my clients who pair Google Analytics Campaigns with their email marketing, we consistently see deep engagement from email subscribers, whether it be the significant amount of time they spend on nonprofit websites or the high rates at which they complete tasks such as making an online donation, contacting an elected official, or registering for an event.
Across nonprofit websites, email subscribers are more engaged than any other audience.
(Need help using Google Analytics Campaigns to track your email marketing? Check out my Google Analytics Toolkit course for the training you need to get started.)
Want more helpful articles like this one?
Scroll down and subscribe to SmartCause Digital Updates. I share helpful articles, tutorials and trainings every week.